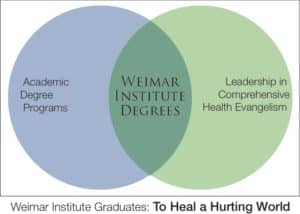 Meaning (aligned with our mission & vision statement): 
A degree from Weimar Institute prepares graduates to be leaders in comprehensive health evangelism within their field of academic study that they may heal a hurting world (see diagram below).
Quality (expressed in our ISLOs): Students with a degree from Weimar Institute are spiritual leaders, health evangelists, critical thinkers, integrative learners, effective communicators, quantitative reasoners, and principled workers.
Integrity (support to make quality a reality): Weimar Institute prepares graduates through competent modeling and leadership in CHE (Comprehensive Health Evangelism) and by educating students in a blended program of practice and theory. Program Assessment and CPR occur on a regular cycle to ensure alignment of Institutional Vision, Mission, ISLOs, PSLOs, ASLOs, core values, the WSCUC Core Competencies, and subsequent integrity of WI degrees.