Practical Application Component (PAC)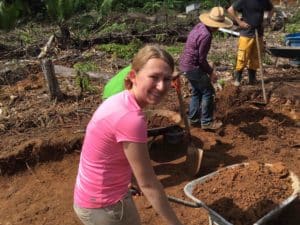 "PAC time," an important break from academic studies, provides students with the chance to participate in real world mission projects and personal learning events. Our Practical Application Component (PAC) times occur twice each semester and are a required part of the curriculum.
The PAC program is integral to the educational philosophy of Weimar Institute because knowledge is best, and most deeply remembered, when it is experienced. "It is the use they [students] make of their knowledge that determines the value of their education" (Ministry of Healing, p. 402).
A Recent Example: Your best Pathways to Health, Los Angeles, 2016
On April 26, 2016, Weimar Institute faculty and students packed into vans and cars for the 430-mile trip to Los Angeles, California and the Your Best Pathways to Health event (YBPTH). YBPTH events are organized by the laity of the Seventh-day Adventist Church and supported by the General Conference of Seventh-day Adventists and local area churches. The Los Angeles event, held at the Los Angeles Convention Center, supplied local, needy residents with free medical, dental, vision and mental health care, prescriptions and lab work, lifestyle coaching and chaplaincy services. Creature comforts such as massages, haircuts and free clothing were also offered to those who attended.
Weimar Institute's goal in attending this event was to fulfill our mission: To Heal a Hurting World. By participating in this event students were given the opportunity to personally sacrifice their time and means for the benefit of those who are less fortunate than themselves. Acts of Christian charity are a reflection of the human heart. Consider:
"Angels of God are watching to see how we treat these persons who need our sympathy, love, and disinterested benevolence. This is God's test of our character. If we have the true religion of the Bible, we shall feel that a debt of love, kindness, and interest is due to Christ in behalf of His brethren; and we can do no less than to show our gratitude for His immeasurable love to us while we were sinners unworthy of His grace, by having a deep interest and unselfish love for those who are our brethren, and who are less fortunate than ourselves."
— White, Testimonies, vol. 3, p. 511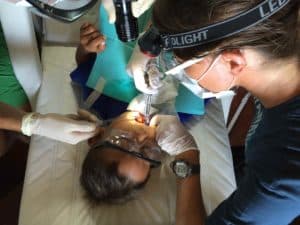 With this attitude in mind, faculty and students arrived in Los Angeles anticipating the YBPTH organizational meeting the following day. Once the volunteers from all over the world were briefed and the operational plans were explained, the arrival of the first patient on Wednesday morning at 7:00am was much anticipated. Even before the doors opened on Wednesday, local "Angelenos" lined up to take advantage of the free services. The lines remained until closing time on Friday afternoon. Over 8,500 people cycled through the Convention Center and received over 18,900 services with a total dollar value of $38,487,680.  (http://www.adventistchurchconnect.com/churchnewstext.php?id=5882)
So, how did this ministry opportunity impact Weimar students? Consider the following reflections, which were gleaned from the PAC survey completed by student participants:
"It definitely showed me the huge need in the cities. I've mostly thought that programs such as this one were only needed overseas, but there are many people here who are struggling with the basic needs of life as well. Seeing the many medical professionals donate there time, money, and equipment really impressed me. In the future, I would definitely want to do the same." (A.P., Ohio — Health Sciences)
"I saw a side of the United States that I thought only existed in other countries, and I truly understood that need is every where. And to help meet that need, I thought a lot about how to study in such a way that will help me be most useful in the world. I learned so much about my own learning style, and have found some tips to incorporate into my schooling next semester. I also gained an appreciation for Jesus' ministry on earth like I have never had before." (D.C., England — Theology)
"It showed to me how powerful selfless ministry is. If all of the volunteers had been paid for their services it would not have had the same impact. To the people coming through Pathways, the fact that we would give of our time without being paid made the biggest impression on them. I definitely want to be involved with more such events, and make selfless ministry the keynote of my life. It makes me so excited to be going into the medical field! I know that the Lord will be able to use me in powerful ways as I continue to commit myself to unselfish service."
"I'd say it definitely reminded me of the impact medical missionary work has. Even something like surgery where you don't talk as much to the patient. The experience definitely confirmed my desire to become a physician." (S.F., Auburn — Health Sciences)
Out of all patients that were treated, there was one lady who really showed me how much I wanted to become a Dentist. My Dentist was looking over her papers and saw that she said she had the thought of killing herself many times in a week. After her tooth was removed, we spoke to her about it. She said it was because her tooth was causing so much pain and she couldn't sleep; she was tired. She started to cry and that really made me sad. She was telling us her story, and my Dentist and I were in tears. We prayed with her and told her that God can heal her. As we prayed, she started to cry harder and at the end, she was thanking us. Just by hearing stories from patients made my passion for Dentistry stronger. It makes me happy to see smiles on people's faces. The past 3 days, getting up at 4, leave the house at 5 to get there at 6, was hard. But it was worth it. Many people stayed outside all night because they wanted to get treated. Many of us were tired, but it was worth to see that our talents can be used to help other people. This event has taught me many lessons and truly showed me how God is working in each of our lives. (M.M.)
Weimar Institute will continue to seek opportunities, such as YBPTH, to help our students integrate Christian benevolence with training learned during academic studies as we pursue our mission: To Heal a Hurting World.