Last week students from Weimar Institute experienced all sorts of adventures during the first day of Total Community Involvement (TCI). Originally, the plan was for two weeks of teambuilding and skills development on campus but after a productive first session, God brought so many community needs to TCI leaders' awareness that the TCI crews went out into the community early.
Three college crews did stay on or near campus to focus on unfinished projects. One crew finished painting a house on campus. A second crew finished a grounds project. A third crew prepared to see what adventure God had for them after He turned last week's challenging situation into a divine opportunity.
In last week's report, you read about the neighbor next to Weimar's property and how clearing the trails was not a good idea to him. Read about it here. God turned that situation into a potential TCI project. This week Don Mackintosh's crew was ready and enthusiastic about helping this man on Wednesday. However, a few hours before the crew was to head out, the man called Don and canceled. Don told him he had a crew ready to go but the man still refused. Don then went to his house to talk to him in person.
The man said, "I'm afraid. It's too hot. Maybe the students will die. I don't have insurance for that. …Maybe they will start a fire when they're cleaning my yard. …Maybe the cats that live among all the trash and boxes will be hurt. …So, will you come in October instead?"
Don tried everything he could to reassure the man but the man was insistent. Don finally realized that it was not going to happen. "What am I going to do?" thought Don. "I have a whole crew that is excited. Everything has been made ready." Don tried one last time but the man still said, "October." Don eventually left, praying as he went.
While he drove away, Don asked, "Lord, what do you want me to do? If You're shutting one door, I know You'll open another. You're going to honor the fact that we're out here." As he reached the end of the street where the man lived, Don saw another house with yard problems. Don saw a man working there and stopped to talk. He found out that the man was a construction worker doing some insurance work. A tree had fallen on the house and the family was currently living in a hotel. Don asked for the family's number and left a message.
Thirty minutes before the TCI crews were to go out, Don had lined up some other projects but then his phone rang. It was the father of the family. When Don told him about the offer for a TCI crew to clean up this family's yard, the man said, "It's the best thing I've heard in six months! I've had such terrible things [happen to us]. Sure, come and clean up our yard!"
After the crew cleaned the yard, Don sent before-and-after photos of the yard and the TCI crew who cleaned it. The man was overwhelmed with joy and responded, "Thank you so much!"
Don asked him to send photos of the family of four so the TCI crew could share their story during the TCI report time at Weimar's prayer meeting that night. Don marvels at how God shut a door for now (until October) and opened another door with a young family who was urgently needed help right now and was overwhelmingly grateful for it.
An additional side story is that while the TCI crew in their neon TCI shirts was working on the family's yard, a woman drove by and asked, "What are you doing? Could you come and clean my place?" When Don explained about TCI, she said, "This is great! But I'm wealthy and I'd feel bad taking you away from helping people." Don replied, "No, we're happy to help anyone." The woman countered with, "Look, how can I donate to what you're doing?" Somehow her heart had been touched by seeing what the students were doing and learning why. "How can I donate?" she asked again and then asked for the estimated value of the TCI crew's work that afternoon. Don estimated that it was about $1,000 and the woman indicated that she wanted to donate at least that much. She also mentioned she had neighbors near her that perhaps a TCI crew could help. Yet another connection with an amazing and unexpected development!
In terms of other doors opening, the TCI crews who went out into the community spent the afternoon knocking on doors and seeing God open some amazing connections there. Some crews went door-to-door distributing health expo flyers in neighborhoods; some went to businesses. One crew even had an unexpected opportunity to invite bar patrons to the upcoming one-day health expo. It will be held at Weimar Institute on Sunday, September 17 from 10:00 a.m. – 4:00 p.m. to offer the community free health checks and information. Weimar Institute health students and volunteers will staff the event.
In addition to the college students' TCI activities, Weimar Academy students and staff go out twice a week for their TCI experiences with half of the students and staff out on Tuesdays and the other half out on Thursdays. They have begun cleaning area community parks as well as starting an ongoing and much-anticipated beautification project at the Sierra View Community Center in Colfax.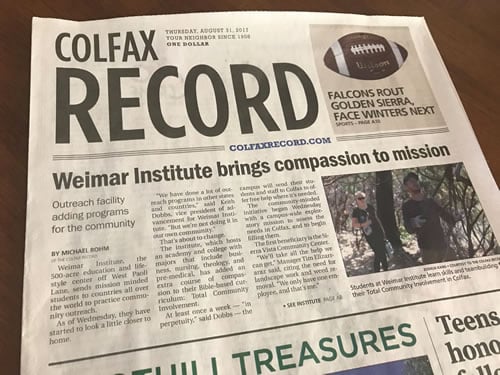 The local newspaper reported that the center's manager was very enthusiastic about their help. In fact, the local community is so open to TCI that news of the program's start made the front page of the newspaper. Read about it here.
So, God shut one door temporarily until October but then not only opened one door we could walk through right now but seems to be opening many additional doors in the area.
The TCI stories are rolling in so join us next week to experience our new adventures!