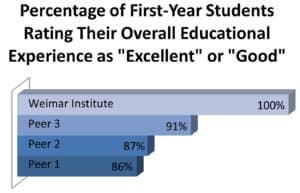 All of Weimar Institute's students participated in the NSSE. However, only the First-Year students were included in comparison reports. The following were Weimar Institute's comparison groups:
Peer 1 – Adventist Univ. of Health Sciences, Southern Adventist Univ., Southwestern Adventist Univ., Union College, Walla Walla Univ., Washington Adventist Univ.
Peer 2 – Burman Univ., Concordia Univ. Irvine, Hope International Univ., La Sierra Univ., Occidental College, Westmont College.
Peer 3 – Azusa Pacific Univ., Biola Univ., Cal Baptist Univ., Cal Lutheran Univ., Pepperdine Univ., Point Loma Nazarene Univ.
Comparison reports revealed that Weimar Institute Freshmen compared very favorably with their peers at other SDA and high-ranking non-SDA colleges and universities. WI students' average was significantly higher in the categories highlighted in green: