Around the Loop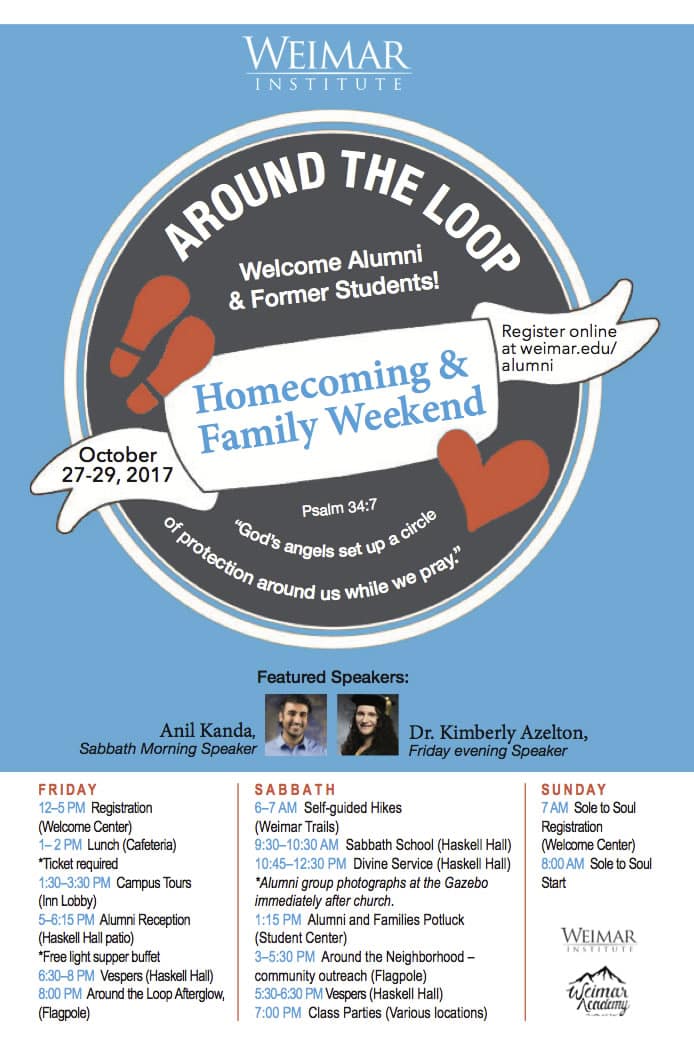 Welcome Home Alumni and Former Students!
Weimar Institute Homecoming and Family Weekend

October 27-29, 2017
"God's angels set up a circle of protection around us while we pray." Psalm 34:7
---
Featured Speakers:
Sabbath Morning Speaker: Anil Kanda

Anil Kanda (Class of 2004)

is known as a dynamic speaker and thought-provoking preacher. Raised in the

Hindu, Sikh and Satsangi traditions, he was later baptized into the Seventh-day Adventist faith. He currently serves as the Young Adult/Senior Youth Discipleship Director and an Associate Evangelist for the Central California Conference of Seventh-day Adventists.

Dr. Kimberly Azelton

Kimberly Azelton (Weimar College 2009-2012) grew up in Michigan with missions on her mind. While part of Weimar's inaugural premedical course she was heavily involved in many medical evangelistic initiatives ranging from church revivals, health expos, health coaching, canvassing, teaching etc., in northwest as well as abroad.

She went on to graduate from Loma Linda University Medical School in May 2017. She is currently enjoying sharing Christ with her patients and assisting them with lifestyle change at Memorial Hospital Family Medicine Program in South Bend, IN.
Schedule of Events
Friday, October 27, 2017
12:00 – 5:00 PM
Registration at Welcome Center near the entrance gate
1:00 – 2:00 PM
Lunch with students, Cafeteria (Ticket required, can be purchased at the door)
1:30 – 3:30 PM
Campus Tours – meet at Welcome Center
5:00 – 6:15 PM
Alumni reception with administration, faculty, staff, (free light supper buffet will be served), Patio at Haskell Hall
6:30 – 8:00 PM
Vespers, Haskell Hall
8:00 PM
Around the Loop Afterglow, meet at flagpole, candlelight sing-a-long and prayer walk around the loop with students, staff, alumni, families, community friends
Sabbath, October 28, 2017
6:00 AM – 7:00 AM
Self-guided hikes, Weimar Trails
9:30 AM – 10:30 PM
Sabbath School, Haskell Hall
10:45 AM – 12:30 PM
Divine Service, Haskell Hall
 Alumni group photographs at the Gazebo immediately after church.
1:15 PM
Potluck for alumni and families, Student Center
3:00 – 5:30 PM
Around the Neighborhood – community outreach, Narlon Edwards, coordinator (meet at flagpole)
5:30 -6:30 PM
Vespers, Academy Choir Concert, Haskell Hall
7:00 PM
Class Parties, various locations
Sunday, October 29, 2017
7:00 AM
Sole to Soul 1.6K/5K/10K/Walk Registration, Welcome Center
8:00 AM
Sole to Soul Starting Line, The Loop
Fundraiser for community outreach projects
Registration: $35 adults, $10 academy/college students and kids 12 and under (includes a t-shirt while supplies last)
Start planning now to come join us!