To read part 1, click here.
"All of a sudden I messed up. I didn't know how to count. I didn't know what was going on! I thought that I was going to fail."
"But the moment I thought that, a voice started singing the right melody in time. And I immediately picked up on it and I knew where I was in the music. So I followed their voice."
Thinking it was the teacher who was singing, she continued to play until the piece was over. The exam finished, she packed up her belongings, and rushed home to tell her mother about the incident.
Her mother listened patiently and then told her, "If the teacher was singing with you, then the exam would have been over. You would have failed." "So then who was singing?" Mariko wondered. It didn't sound like any voice she had ever heard. Her mother told her that it was an angel that was singing the melody. Wow! Could it really have been an angel? Mariko wondered. And to this day, Mariko remembers part of the music. She says, "the singing was so beautiful" as she hums part of the melody.
A month later, Mariko received news that she had been accepted into the music school! She decided to major in pipe organ performance and music education. Yet upon graduation, Mariko was still unsure of why she had ever chosen to pursue pipe organ and how she would use her skills.
Finale
 A few years later, she and her new husband, Masato Kinjo, settled in Walla Walla, Washington. As he studied medicine at Loma Linda University, she focused on mastering conversational English since she found it widely different than the textbook English she had learned.
Their family grew to include three daughters and they soon moved to Loma Linda, California. As Mariko became more involved in home life and homeschooling, she felt that her music education had to be put on the back burner. Though she would occasionally play for church, weddings, and funerals, she didn't feel like her music education had met its fulfillment.  That is until she came to Weimar for her oldest daughter, Michelle's, graduation.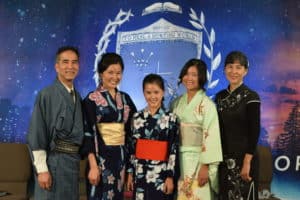 She was asked to play a postlude by J.S. Bach named "We Thank Thee O Lord." And immediately after, Pastor Don Mackintosh, chairman of Weimar's religion department, approached her and asked if their family would consider moving to Weimar. They were in need of someone to play the organ and a teacher who could teach anatomy and physiology. These were skills that both Dr. and Mrs. Kinjo could offer. The Kinjo family was unsure, but after a number of requests from the faculty, the Kinjo family started praying seriously for God's will. If they accepted the offer, Dr. Kinjo would have to leave his naturopathic clinic in Seattle and his Bible work while Mrs. Kinjo would have to leave her piano students.
After much prayer, things started to fall in place that would prepare the Kinjo family for the move to Weimar. First, a new bible worker came to work in the Seattle area where Dr. Kinjo was working and agreed to cover Dr. Kinjo's bible work, then a work colleague agreed to teach piano for some of Mariko's students. Around the same time, the colporteuring program that one of their daughters was attending had been discontinued. This meant that she had to find a college to go to and she was led to consider Weimar's new business program. And to top it all off, a letter from Mariko's dad, written years earlier, re-inforced the importance of the family staying together. The Kinjo family saw God's leading in the doors that had been both opened and shut. They were moving to Weimar!
Upon arriving at Weimar, Mariko says, "I finally realized why I learned the organ." God had orchestrated it in such a way that Mariko should work side by side with Erwin Nanasi, Weimar's minister of music. She conducts the orchestra and handbells, gives piano and organ lessons, and plays the organ for the church while Erwin directs the choir and serves as chaplain of music at the NEWSTART program. She remarks, "God thought so far ahead. How many years ago? When I was 18 or 17, I chose organ. … God already knew when I was going to be 50-something, [I would need this skill]…. And He thought that organ was a much better choice than piano.…Sure enough, God lead in this direction. I just cannot praise God enough. It's amazing!"
An amazing journey. An amazing life. And, most of all, an amazing God. Weimar Institute is blessed to be the home of amazing stories like that of Mariko Kinjo.